---
October 13, 2020 — 9:30pm
MERCY HEALTH GLASS CITY MARATHON COVID SAFETY PLAN
This safety plan below is designed to cover the Mercy Health Glass City Marathon event at the University of Toledo. The event will be held from Friday, April 23 through Sunday, April 25, 2021.
Community Directors involved in preparing this safety plan:
Clint McCormick – RRCA and USAT Certified Race Director, Toledo Roadrunners Club
Dr Jason Smith – Medical Director of Sports Medicine, Mercy Health Toledo
Eric Zgodzinski – Health Commissioner, Toledo-Lucas County Health Department
David Welch – Director of Environmental Health, Toledo-Lucas County Health Department
SUPPORTING DOCUMENTS
Requirements for Youth & Collegiate, Amateur, Club & Professional Sports
EXPO & PACKET PICKUP
At this time we do not believe an indoor expo will be possible for maintaining a safe environment. We are looking at options to hold an outdoor event. The details are yet to be determined, but could include a drive through packet pickup, or a large tented packet pickup option to be held on Thursday, Friday, and Saturday of race weekend. No race day pickup will be offered.
FIELD SIZE
The goal for 2021 is to reduce the field size of events to allow for adequate social distancing in each wave at the start line, at aid stations, relay exchange points, finish line, medical tent and refreshments areas.
Field capacity will be limited to a total of 7,500 participants broken down into the following events:
Saturday:
5K: 2000 Runners/Walkers
Kids Run: Canceled
Sunday:
Marathon: 1,500 Runners
Half Marathon: 2,500 Runners
Marathon Relay: 250 teams of 5 Runners Each
COURSE MAPS
The course routes for each event provide routes that allow for adequate social distancing, provide minimal or no overlap, and allow for start lines to have many corrals for staging.
MASKING
All participants will be required to wear a mask/face covering during non-competition times:
Pre and Post Race
Start Line Corrals
Immediate Finish Lline Area
All Staff and Volunteers Will Be Required to Wear a Mask/Face Covering at All Times
All Spectators Will Be Required to Wear a Mask/face Covering
SPECTATORS
Must Wear Mask/face Covering
Must Maintain 6' Social Distancing
Must Conduct Daily Symptom Self Assessment
A Minimal Amount of Spectators Will Be Allowed at Start/finish Lines
No Spectators Allowed Inside the Glass Bowl Stadium
SCREENING
Each participant shall be required to complete a declaration at packet pickup that they are not currently infected by COVID-19 and have not had, or knowingly been in contact with, someone experiencing any of the following COVID-19 symptoms in the past 14 days.
By acknowledging, the participant agrees to take temperature on race day.  Fever of 100.4 or higher, the participant shall not participate.
All spectators are requested to self assess prior to attending the event.
COMPLIANCE OFFICER
Clint McCormick // 419.356.4881
COMMUNICATIONS
Outline safety procedures for participants, staff/volunteers, and spectators;
Publish on registration page and website;
Email to participants prior to race day;
Diagrams outlining specific patterns of flow will be developed; specifically diagrams for the packet pickup, start line, aid station, finish line, and refreshments will be developed;
Mobile App will be developed as another method of spectator and participant communication.
SANITATION
Sanitizers provided in all portajohns;
Portable restrooms spaced 6' apart;
Increased number of portable restrooms available at start/finish line;
Hand wash stations and hand sanitizer stations added to the start/finish line area.
RAMP UP – GETTING TO 7250 RUNNERS SAFELY
We have been working closely with the Lucas County and Wood County Health Departments to develop safe running procedures since May 2020. Through this collaboration, we have developed a path and field capacity that targets the Glass City Marathon through other area road races. Operational procedures are being developed and refined as the field capacity grows to maintain social distancing guidelines where necessary so we can safely execute the different events within the marathon. Below are the events and field capacities leading up to the Glass City Marathon event.
START LINE CORRALS
Social Distancing
The start line for the marathon, half marathon, and relay is on Secor Road, south of West Towerview Blvd. Given the conditions as we know it in October 2020, we anticipate corrals of 100 people. Should the climate improve, we would explore corrals of 250-500 participants each. We will corral runners up Secor, wrap around to Towerview, then south on West Rocket Drive. With a start line width of 50 feet, we are estimating we will start a wave every 60 seconds.
The main concentration is to keep people moving and to not have people remain in the same place for more than 15 minutes. Masks will be required of participants until they cross the start line.
FINISH LINE / POST RACE
The immediate finish line within the Glass Bowl will not allow any spectators.
Runners "encouraged" to leave finish area ASAP;
Results streamed live and sent to mobile devices.
No awards ceremonies. Pickup at separate tent;
Finisher medals will be distributed at packet pickup;
Refreshments are to be determined. In normal years we serve sliced pizza, pasta, and offer beer to finishers. As we know it today, all food items are to be individually wrapped items, or whole fruits packaged in advance and distributed in bags, no self-serve or bulk items.
We continue to monitor the conditions locally, and nationally as road racing returns. These guidelines are being put in place with every effort to hold this event as close to normal as possible, proving the best experience we can given the climate we are in. There is always a chance the event will be cancelled. Should you not feel safe participating, or if the race changes from an in person race to either a virtual or cancelled event, we will work to provide deferment or transfer options. There are no refunds.
---
October 1, 2020 — 12:30pm
We're Planning Ahead to 2021
Details Will Be Coming Soon
As it has become a part of our everyday life, social distancing and masking practices are being implemented in all aspects of the marathon weekend. We continue to work with our staff, vendors, sponsors, health department, and community leaders to develop safe practices for our weekend. As areas of focus are finalized, we will publish what we can here.
---
May 1, 2020 — 2:30pm
How to Run While Social Distancing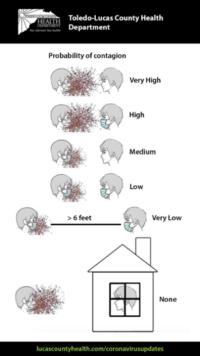 J.A. Smith, DO, FAOASM
Medical Director of Sports Medicine, Mercy Health
Medical Director of the Mercy Health Glass City Marathon
Medical Director of the Toledo Lucas County Public Health Department
In this time of uncertainty, we continue to rely on physical activity as a healthy form of stress relief. With gyms closed, running is an effective, healthy way to continue exercising.
With weather improving here in Northwest Ohio along with some easing of stay at home orders getting outside for a run is even more popular. We are very fortunate to have the amazing trail opportunities afforded by our Metroparks system, but this means that these trails can be busier with the increased volume of people exercising outside. So, here are a few things to keep in mind to continue to exercise while being mindful of others around you.
It's important to realize COVID-19 is spread by droplets and it's not airborne meaning that if you maintain proper social distancing of 6 feet your likelihood of spreading the disease is very low. Droplets, particularly coming from an uncovered cough or sneeze tend to spray approximately 3 feet so by keeping 6 feet away you nearly eliminate risk for those droplets to get on you or your droplets getting on others. So, running with a mask isn't necessary provided you are keeping to that 6-foot radius around you.
When you're not running, and you must go out for essentials or medical care, wearing a mask is important. It essentially protects your droplets from getting on others and other's droplets from getting onto you.
A Few Pointers
Don't go running if you feel sick.
Stay home.
Do not gather in groups.
Maintain proper social distancing and stay six feet apart if you're passing another runner.
If you regularly can't pass safely or it's too crowded, try running at a less popular hour or on a wider route.
Don't spit or snot-rocket around others (droplets).
Run solo or with someone you live with.
Carry your own water and hand sanitizer with you and try to avoid drinking fountains and public bathrooms if possible.
Wash your hands after you run.
If you feel that someone is running too close to you without passing you, kindly ask them to give you more space or let them pass.
Avoid touching your face when running and avoid touching things like handrails or crosswalk signals.
If you are nervous about the crowds, stay inside and work out at home.
Remember even if you're not sick you can prevent others from getting sick by protecting them with proper social distancing because we are all in this together.
---
April 13, 2020 — 11:00am
FAQ: How Will We Submit Relay Team Results for the 2020 Virtual Race?
It's times like this that bring us closer together, even though we're so far apart, and inspire us to do something better. — We are still working closely with RunSignup to develop brand new technology for giving relay teams the ability to submit results as a team. Currently, the results submission process only allows for accepting and displaying individual times. We'll give you the final update by April 18th.
---
April 12, 2020 — 5:00pm
GO VIRTUAL AT GCM 2020 • TELL YOUR FRIENDS!
We've received an overwhelming number of requests to open up registration to the public for this month's virtual running of all Mercy Health Glass City Marathon events.
Well, registration is now open and individuals can select their package of choice — Medal Only (all events), or Medal and 1/4 zip (marathon & half marathon), or medal and blanket (5k), or medal only w/ possible option for apparel add-on after race (relay).
RUN ALL 4 EVENTS • FIT THEM IN OVER 16 DAYS!
RESULTS' SUBMISSION WINDOW WILL BE OPEN FROM APRIL 18 TO MAY 3, 2020
Save your A-race virtual race for race-day, April 26, 2020, and still run and submit results for any or all of the other GCM virtual races any time between April 18th and May 3rd, and share in the camaraderie of accomplishment. — FAQ: Yes, registration for each event separately, is required.
WHAT IS A VIRTUAL RACE?
A virtual race gives individuals the opportunity to take part in an event without having to be there in person. Whether you're out of town on race day, you live across the country, or the event was cancelled by COVID-19, virtual races give everyone the ability to be part of an event, stay motivated, and maintain their training momentum by giving you something to look forward to.
THE VIRTUAL RACE PROCESS
RUN THE DISTANCE • TRACK YOUR TIME • ENJOY YOUR SWAG • SHARE IN THE CAMARADERIE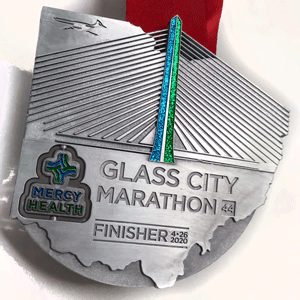 RECEIVE EMAIL INSTRUCTIONS WITH RESULTS SUBMISSION LINK
RUN DISTANCE SELECTED ANY TIME DURING RACE WINDOW (track your own time)
SUBMIT FINISH TIME BY VISITING LINK IN INSTRUCTIONS EMAIL
VIEW YOUR NAME & TIME IN ONLINE RESULTS
HARE YOUR CUSTOM FINISHER CERTIFICATE FROM PERSONAL RESULTS PAGE
SIT BACK AND WAIT FOR DELIVERY OF VIRTUAL PACKAGE ITEMS
DISPLAY YOUR FINISHER MEDAL & WEAR YOUR APPAREL PROUDLY
Registrants will receive instructions via email on how to participate, submit their results and when package items will be shipped and/or available for pickup.
Stay healthy, stay positive, and keep running the Glass City.
---
April 9, 2020 — 8:30PM
Opt-in to Go Virtual for 2020
Remember to opt-in to the virtual race before April 16, 2020 by following the instructions in your previous email; also reviewable below on this page. If you don't opt-in, you will not be included in the virtual race this year.
Fill All 5 Team Member Spots • REGISTRATION NOW OPEN!
If all of your members have not registered yet, get them to signup now. We've opened up the virtual races to anyone not already registered, and you'll want to share in the experience together… from a distance. They will need to select the "Virtual YARK SUBARU 5-PERSON RELAY" option and then join your existing team to be included and receive their medal.
Yark Subaru Relay Team Virtual Race
1) Transfer to Virtual
Only one person per team needs to complete the transfer to the virtual run through Runsignup.com/profile; ideally your designated captain.
FAQ
Your paid registration into the %EVENT_NAME% will automatically be deferred to next year's running on April 23-25, 2021. It will not be effected if you transfer/opt-in to this year's virtual race.
2) Race Day
All 5 members of the relay team are to complete their agreed upon distance (1 person does 1 leg) so that the whole team of 5 runners completes the entire 26.2 distance.
Leg 1 – 3.4 Miles
Leg 2 – 5.0 Miles
Leg 3 – 6.6 Miles
Leg 4 – 5.8 Miles
Leg 5 – 5.4 Miles
You are not required to run the actual route. In fact, we encourage you to run from home, and ask that you avoid any congested roads, paths and/or trails on your run and remain cognizant of social distancing guidelines at all times, as recommended by the CDC. — We do not recommend running the event in person with your team.

3) Submit Your Individual Time to Your Team Captain
Keep track of your own time (hh:mm:ss).
Send your time to your team captain (hh:mm:ss).
Captains, add all the times together (hh:mm:ss) and submit once to our results.

One-click submission instructions will be emailed to you on race day -OR-
If you want to submit your results prior to race day, visit the results page:  https://runsignup.com/Race/Results/22766/#resultSetId-191919 and click the "Submit Virtual Results Button." -OR-
Look up the team captain's name and enter the total team time (hh:mm:ss).
Don't let this situation stop your journey together… from a distance. Continue to follow glasscitymarathon.org for updates regarding the 2021 Mercy Health Glass City Marathon, and we look forward to hearing all about your virtual race.
4) Finisher Medal Fulfillment Process
We're working out the details on how virtual participants will receive their finisher medals for their individual races. Marathoners and half marathoners will also receive the custom, long-sleeve quarter zip. We'll send follow up information once this process is finalized.
Stay healthy, stay positive, and keep running the Glass City.
---
March 27, 2020 — 9:45 PM
As we announced previously, you have been offered the option to take part in a Virtual Run for the 2020 Mercy Health Glass City Marathon. Here are the steps you need to follow to make this happen. Don't worry. They're pretty straight forward and easily done from your runsignup.com/profile.
STEPS TO OPT-IN TO VIRTUAL RACE
If you choose to participate in the 2020 virtual race, you must OPT-IN by transferring your current registration to the Virtual Event.
Watch the event transfer tutorial on RunSignup.
Login to your runsignup.com/profile

Navigate to: Profile >> Upcoming Events >> Manage Registration >> Transfer Event
Transfer to the Virtual Race
Make sure to enable EMAIL notifications. This will allow you to submit your results when completed.
Save all changes.
FAQ
Is transferring to a different virtual event allowed? Yes. Just choose which event you want to switch to during the transfer process listed above.
What happens to my 2021 deferment if I transfer to a different virtual race in 2020? The event you originally registered for at the 2020 event will carry through to 2021, regardless of which virtual race you choose in 2020.
When can I run my virtual race? We have set a two week window for you to submit your virtual race results. April 18 through May 2. Run any time during this window and reply to the email notification you you'll receive.
What route do I have to run? We recommend you run from home so you can easily setup your own aid stations and continue to practice social distancing. Run the full distance of your virtual race and run with your watch — you'll need to know your time.
*How do I post my results? You will receive an email from us through RunSignup on April 18 to remind you to run and how to reply with your results. This email will include a link you must visit to submit your results.
When and where will I receive my finisher medal and long-sleeve quarter zip? Items we have received will be distributed once the current crisis passes and we are notified by authorities that it is safe to operate a packet pickup. We will communicate more on this once we have more information. (apparel only for marathon and half marathon)
How do I share my virtual run with others? We recommend you take some photos and even shoot a video or two to post to social media, tagging @GlassCityMarathon/@GCM_Toledo and including the hashtag #RunGlassCity, so it's visible in our feed. Download your finisher certificate from your RunSignup results and include with your posts.
RELAY TEAMS
We encourage you to responsibly follow social distancing and avoid handing off any items between teammates. You may choose to run with others (at a distance, of course), or on your own. Have fun. Your team members will run the following distances to complete the full 26.2 miles:
Leg 1 – 3.4 Miles
Leg 2 – 5.0 Miles
Leg 3 – 6.6 Miles
Leg 4 – 5.8 Miles
Leg 5 – 5.4 Miles
*Each member of a relay team should send their results to the team captain. The team captain will compute the overall time and only the captain will submit it from link for publishing to the results.
---
March 27, 2020 — 7:45 PM
We had to work out the details to make this possible, and now that it's ready we wanted to let you know that you and your Yark Subaru 5-Person Relay team can now participate in the virtual event too. We'll be sending each event registrant a separate email with all the details later today, but wanted to give you the heads up that we didn't forget about you.
REMINDER: FROM INITIAL ANNOUNCEMENT
Your paid registration into the 2020 event will automatically be deferred to next year's running on April 23-25, 2021.
Once registration re-opens, you can manage your shirt sizes, transfer distance within the event, etc., as needed.
Go Virtual for 2020. For those who want to, we have enabled the virtual option for you to participate virtually this year and will send out detailed instructions shortly.
---
March 21, 2020 — 6:00 PM
In our efforts to keep everyone updated through these trying times, here is the latest on hotel cancellations, for reservations made via our website portal. Our hotel management company is in the process of cancelling your rooms. There is nothing you need to do. As of Friday, about a third have been completed, and we will continue processing until all are finalized.
If you know anyone who reserved a room by contacting the hotel directly, please remind them that they will need to contact that hotel directly in order to cancel their reservation. We cannot do this for them.
---
March 21, 2020 — 6:15 PM
In our efforts to keep everyone updated through these trying times, here is the latest on hotel cancellations, for reservations made via our website portal. Our hotel management company is in the process of cancelling your rooms. There is nothing you need to do. As of Friday, about a third have been completed, and we will continue processing until all are finalized.
If you know anyone who reserved a room by contacting the hotel directly, please remind them that they will need to contact that hotel directly in order to cancel their reservation. We cannot do this for them.
Please continue to follow this page for updates regarding the 2021 Mercy Health Glass City Marathon. We hope to see you all in Toledo next year for our 44th running.
Wash your hands. Stay positive. Keep running.
---
March 17, 2020 — 8:15 PM
Mercy Health Glass City Marathon — 2020 Registrant Update: Solutions
We love what we do, because we do what we love. Each year we provide individuals with an opportunity to participate in a communal event that supports their well-being, tests their grit, rewards their sacrifice, and helps improve our running community by supporting local businesses and charity partners that are integral to everyones' success.
Now that we know we're no longer able to run the 2020 Mercy Health Glass City Marathon because of the COVID-19 health crisis, and we've had a moment to let it sink in, we wanted to reach out to all registered participants with detailed information on what comes next.
FIRST THINGS FIRST
Don't waste your training. The CDC recommends activity like outdoor running, walking and biking to help combat the affects of cold, flu and COVID-19. The caveat is that you practice safe social distancing, and evaluate your individual risks before acting. There will be a lot of other events coming up that you can use your training at; maybe some you hadn't previously thought of attending. Look toward the horizon and set a new goal. Life isn't certain, but if we keep moving forward, we'll always have something to look forward to.
Training groups all over are also modifying their plans to help accommodate the continuation of programs. Some are moving online, or virtual, so stay in touch with your coaches and see what works best for you.
If you need more gear to continue your training, call into your locally owned running stores to order for drive-in and pickup. Many may also offer online shopping resources with delivery options. Take care of local businesses. They are the life-blood of local running communities and are dramatically affected by this situation.
The Toledo Roadrunners Club is a nonprofit organization that exists to promote running, walking and fitness for anyone. This situation has put a strain on the club's future endeavors. With the funds from the Mercy Health Glass City Marathon annually, many of the free runs, gatherings, races, scholarship fund and grants facilitating this mission are made possible.
WHAT YOU CAN LOOK FORWARD TO
With all that said, we are offering several options to accommodate the inconvenience that COVID-19 has caused you, the loyal fans of the Mercy Health Glass City Marathon. It's taken some time to make sure we're not missing something, but believe these options land well beyond any realistic expectations anyone could have of us in this unprecedented situation.
We will not be able to respond to everyones' email and direct messages individually on this matter, but will attempt to reply to common questions in singularly focused posts on social media.
Please read all information below thoroughly to find the answers you seek today. We'll deliver additional information in the coming weeks and months, as warranted.
VIRTUAL RUN: We will be offering a virtual run on April 25th for the Savage 5K, and on April 26th for the Mercy Health Glass City Marathon and Owens Corning Half Marathon — at no additional charge to you.
We're working to setup the tools so that on race day, 2020, everyone can run their race wherever they are (within social distancing guidelines set forth by the CDC) and post their results online so we all can share in the accomplishment. We'll outline exactly what a virtual run is and send more of these details to you in the coming weeks, as we get closer to the virtual race date.
Marathoners, half marathoners, relay members and 5k participants in the virtual event will get their 2020 finisher medal.
Virtual marathoners and half marathoners will also get their long-sleeve, quarter zip to commemorate this many-months-long training effort.
Local medal and apparel pickup and mailing options will be announced as we get closer to the original race date.
DEFERMENT: As a socially-aware gesture, all current registrants will have their 2020 entry deferred into our April 24-25, 2021 running (at no additional charge to you, in addition to running the 2020 virtual option). We've amended our current policies in this situation to give everyone these added solutions. If you cannot make the 2021 date, you'll still have your medal, apparel, and training memories — and this lifelong solidarity with fellow runners around the globe.
BIB TRANSFERS: We offer a flexible transfer process during normal registration periods, but typically not for deferred registration. We have amended this process through April 16, 2020 to allow BIB transfers to another person by individuals who have been deferred from 2020 to 2021 and cannot attend. The transfer fee will remain in place. The process is easily managed by you through your Run Signup profile. We recommend referring to this tutorial.
REFUNDS: As with other marathon events we've been communicating with throughout this situation, that have also had to cancel or reschedule their races, entry fees will remain non-refundable (as acknowledged by all registrants during the signup process). Refunds simply aren't an option if any races are expected to survive, and is why it has been the industry-wide standard for many years. The financial implications to these clubs would be devastating and the Toledo Roadrunners Club would cease to exist.
THE RACE MANAGEMENT PROCESS
Once you register, we start putting your money to work to plan for your arrival and develop an experience worth the entry. Something we're known for in Toledo, and take great pride in delivering on, with 364 days of work and one day of fun. Race Directors everywhere are being asked where the money has been spent. Well, most of it is spent several months in advance of a race and on many integral items:
Venues
Permits
Medals
Apparel
Logistical Support
Vendors
Hydration and Supplies
Operational Assets
Personnel
Marketing, Advertising and Other Media
…and the list goes on…
After the race, all remaining funds are donated to nonprofit organizations.
WHY THIS PROCESS?
We exist to support you on your journey to the finish line, year-after-year. This year we need your understanding and support, by accepting the options we (and our neighbor races) are offering. By doing so, we'll be able to bring you your next race experience.
Additionally, the running community has made a commitment to the charity partners of these events. These charities are the volunteers that support the course on race day, and help everyone along to the finish and will now be receiving only a fraction of their anticipated funding for this year. These partners need our support to carryout their missions, especially now that our health systems and other resources are being stretched thin.
HOTEL RESERVATIONS
If you've made reservations at an area hotel via our website portal, there's nothing you need to do to cancel. We're already working on processing these cancellations and sending everyone who registered an email sometime in the next week or so with confirmation. Please hold off on contacting us if you don't receive this notice until then. We're inundated with email and cannot guarantee any reply outside of this correspondence method.
COVID-19 REFUNDS
Things have changed drastically since March 10th when we asked that if you had recently traveled to any of the high-risk countries listed on the CDC's website, or were experiencing upper respiratory symptoms, or had come in close contact with anyone diagnosed with COVID-19 to please refrain from attending the race and contact us for a full refund.
Everyone who contacted us with these conditions, before our announcement that the 2020 race will no longer be held, will receive their registration refunded (less any processing fees). We have compiled this list and will contact each person separately.
WE APPRECIATE YOU
These are trying times for everyone. If you have the means, please consider donating to our charity partners and other nonprofit organizations in your area to help them fulfill their missions. We're all in this together. The more we work together, the better we'll all be on the other side.
Thank you for your love of running, understanding and patience.
---
March 16, 2020 — 12:45 PM
It is with heavy hearts we announce the news that the 2020 Mercy Health Glass City Marathon will not be held this year.
Our Board of Directors, in close coordination with our title sponsor, Medical Director, and the Lucas County Health Department, weighed and evaluated every option possible. After days of deliberation, in conjunction with the declaration by the CDC late on March 15th recommending the cancellation of events for the next 8 weeks, we were left with few options.
Moving to a later date this spring doesn't guarantee we will be able to run then either. We are conscious of the future impact to our medical community and need to be able to ensure the safety of our participants.
Ohio has many fall marathons, so moving to the fall would continue the hurt for our industry and friends around the region. We work closely with other events in Ohio and Michigan and this isn't a positive solution.
What You Need to Know Today
All paid registrations will automatically be deferred to next year's event on April 23-25, 2021.
Once registration opens, you can manage your shirt sizes, transfer distance within the event, etc., as needed.
Going Virtual. For those who want to, we have enabled the virtual option. We will send out detailed instructions soon.
Today's announcement is very emotional for our entire running community; race directors, community partners and runners alike. You have been training very hard these past several weeks, but the best thing about our running community is the positivity it spreads, and the relationships it builds. A good friend of mine just wrote, "COVID-19 may take my race, but I won't let it stop my journey." We agree!
Continue to follow glasscitymarathon.org for updates regarding the 2021 Mercy Health Glass City Marathon. We hope to see you all in Toledo next year for our 44th running.
Stay healthy, stay positive, and stay running.
Sincerely,
Clint McCormick, Race Director, and the entire Toledo Roadrunners Club and Mercy Health Glass City Marathon team
---
March 15, 2020 — 10:55 PM
While we'd love to be able to answer everyone's COVID-19 status questions individually, our entire team is working around-the-clock to make the best decision and develop a full action plan. Information is changing daily and we're factoring it all in. We're sticking to our plan for making and announcement after the end of March. April 3rd is still our target date.
We have a conference call with other major event race directors on Monday, in order to work together and share feedback, resources and ideas.
Please refer to this page for future updates. We'll also share a link to each update on our social channels. Thank you for your patience and understanding during this fluid situation. Keep up your training and stay positive. You'll be racing again soon.
---
March 13, 2020 — 9:30 PM
We, here in Toledo, and the running industry as a whole, are taking this unprecedented health emergency very seriously and are working to provide you with the answers you need as soon as possible. Ultimately, the safety of our runners and community as a whole is our first priority.
Because of this, Mercy Health Glass City Marathon will follow the guidance about the future of our running, April 24-26, of medical professionals and our Medical Director.
As your Race Director, I have been consulting with our medical team and local officials over the past weeks to understand the changing threats we face, and identify what options exist. I can assure you that the scope and decisions being made are quite complex and we do not take this process lightly. I am also in daily conversations with other major races upcoming in Ohio, Michigan, and Indiana to determine the best course of action.
We feel confident that a decision will made and action plan developed by the end of March, followed by an announcement. Some of the options we're considering are.
The race goes on as originally planned.
The race is the same date, with modifications (unknown at this time).
The race is postponed to a future date, to be determined.
The race becomes a virtual event on the same date.
The event is canceled.
We hear your questions and know you would like an answer. One will be forthcoming as soon as all criteria is known. Not all events are facing the same issues and we must make the right decision or this event, when it must be made. For example, world major events, like Boston and London, have a significantly different impact on the health of a their communities and operational logistics, versus a much smaller regional or local event like ours. With some exceptions, the vast majority of our participant base is local with little to no travel required to attend, thus more flexible with options. Making changes to a marathon isn't as easy as picking a new date though. To get where we are today, we have been planning 11 months. The Mercy Health Glass City Marathon operates in five jurisdictions and uses a major University as its host facility. We also use many industry vendors to operate the race. All of which must be available for moving to a future date. All this needs to be evaluated before a final decision is made.
We are currently 42 days from race weekend and our team is actively working on developing the scenarios listed previously. Which one we announce will be driven by the recommendations of health professionals, with the safety of our runners and community as a priority. Forty-two days ago, the world and life as we knew it was in a very different place. Which option we will implement is yet to be determined.
We will continue to communicate with you as updates occur. Please continue to check our website and social media channels for updates and additional information.
I want to thank you for your patience and understanding during this challenging time. We are a very close community, and we understand the hard work and commitment you've put in over the last several months getting ready to run Glass City. We are doing everything within our power to ensure a safe event and look forward to seeing you all soon.
---
March 12, 2020 — 6:30 PM
Today's announcement from the Governor of Ohio does not affect our event schedule, April 24-26. Our event is outside the scope of this order. We continue to monitor this fluid situation and will always make decisions in the best interest of our participants and community as a whole.
---
March 12, 2020 — 12:00 PM
Read the facts about COVID-19 from the CDC to help stop the spread of the germs and misinformation.
---
March 10, 2020 — 7:30 PM
The University of Toledo's announcement suspending campus events with expected attendance of 100 or more does NOT include or affect our event. Outside events, including GCM, are evaluated on a case-by-case basis. We're in continuous communication with University officials, as well as our Medical Director on this evolving situation.
---
March 10, 2020 — 7:00 PM
Our Medical Director remains in regular communication with medical experts from Mercy Health, the Lucas County Heath Department and is monitoring information and following guidance from the World Health Organization and Centers for Disease Control and prevention regarding the potential impact to the Mercy Health Glass City Marathon from COVID-19. We'll keep you posted of any updates as they happen. As of now, there are no plans to change the scheduled April 24-26 event. Keep training and we look forward to hosting you at our 44th running as planned.
---
March 10, 2020 — 5:25 PM
The Medical Team of the 2020 Mercy Health Glass City Marathon wants to update you on the current situation with novel coronavirus (COVID-19). The influx of new, daily developments and information regarding this virus has brought many questions. We want to let you know that the safety and security of each race participant, volunteer and marathon employee is our top priority, and that is one reason that we are taking COVID-19 seriously.
We continue to monitor updates provided by the Centers for Disease Control and Prevention (CDC) and the World Health Organization and are working with local and state departments of health to ensure we are aligned on prevention, protocols and next steps. 
We encourage everyone to familiarize themselves with the World Health Organization's suggested safety precautions including regular handwashing/sanitization, covering mouth and nose when coughing or sneezing, and to avoid close contact with those showing signs of illness.
At this point we'd ask that if you have recently traveled to any of the high risk countries listed on the CDC's website, if you've experienced upper respiratory symptoms or have come in close contact with anyone infected with COVID-19 to please refrain from attending the race and contact the race director.
Our medical and on-course teams will continue to observe proper personal hygiene and utilize appropriate personal protective equipment during the event. We look forward to a safe, fun and healthy race.