Mercy Health Glass City Marathon Ambassadors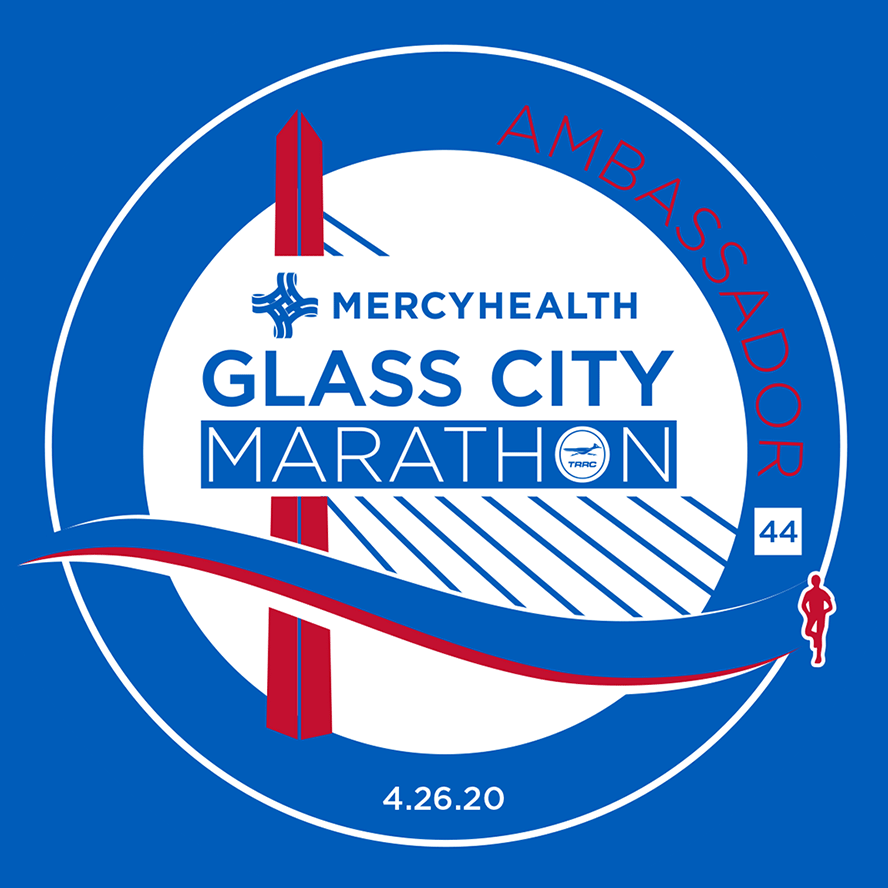 The Mercy Health Glass City Marathon and Owens Corning Half Marathon annually partner with influential runners to represent our event and city as Official Ambassadors.
We're annually looking for dedicated runners/walkers who are passionate about the sport, have previously participated at GCM, and are actively involved in their own running community (both on-the-ground and online), and are ready to be part of our amazing team of Ambassadors.
If you're someone who shares regularly on Facebook, Twitter, Instagram, YouTube, Snapchat, Reddit and other social platforms, is part of a running or training group, and/or rallies your friends and family for social events, then you could be an Ambassador.
In addition to select local and regional individuals, we look for Ambassadors from outside the Toledo Metro area who have previously participated at GCM and can offer a unique visitor perspective to the public. — Does this sound like you? Keep an eye on what current Ambassadors are doing and consider applying for the next class. Follow us on Facebook, Instagram and Twitter, and subscribe to our newsletter to get notified when the process is open.
GCM Ambassador Selections
Applicants selected to be Mercy Health Glass City Marathon ambassadors are notified via email in August. Please note that Ambassadors are NOT financially compensated in any way. We do not subsidize travel or training expenses. Ambassadors serve for one calendar year. Mercy Health Glass City Marathon reserves the right to remove any Ambassador from the team for any reason.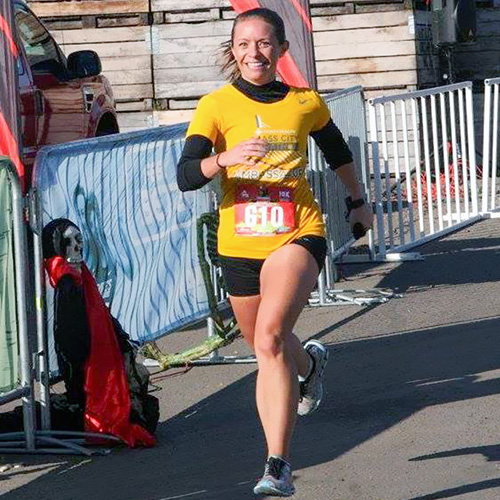 Amanda Clark
Hometown: Bowling Green, OH
First Marathon: Glass City Marathon — 2012
Amanda is a runner, fit-ish bodybuilder, and occasional healthy eater. In 2010, she started running and has been hooked on the runner's high ever since.
After losing 40 pounds by running and bodybuilding, Amanda knows that staying fit is a journey, not a destination. Staying in shape is something she takes seriously, but life is about balance, so she always tries the new Oreo flavors and occasionally eat her weight in cookie dough.
Amanda lets nothing keep her from achieving her fitness goals, even six knee surgeries from a high school soccer injury and an ongoing heart condition. They can make running difficult, but that is never a reason to quit.
She has run too many races to count, including ten half marathons and two marathons. Amanda is just your average tattooed runner bodybuilder who eats all the food and is looking to earn that next PR.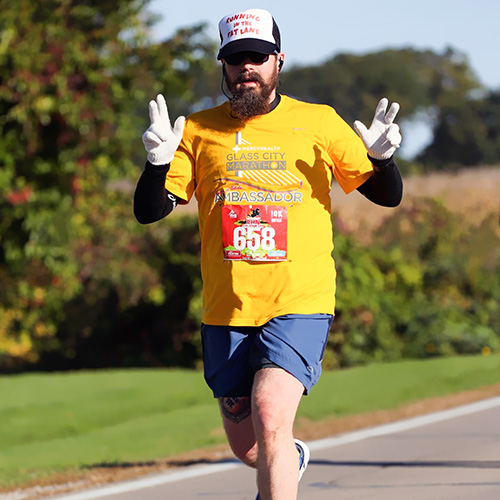 Dean Whitmire
Hometown: Marysville, OH
First Marathon: Columbus Marathon — 2014
Prior to 2012, if I asked you to describe me, you would of said I was an extremely over weight, tattooed biker that doesn't appear to exercise or care what he was putting into his body.  In late 2012, after years of trying fad diets and looking for that "magic pill" everyone is always looking for, in late 2012 my bad health choices finally caught with me.
I was at the proverbial fork in the road, where one way leads to a short life expectancy or the other that, while doesn't guarantee a long life, it sure as hell didn't hurt my chances.  I finally decided to put down the donuts, get serious and put in the hard work that eventually released the runner that was trapped inside me. I set a goal weight and after two years, three months and eight days of blood, sweat and tears, I was able to remove 142 pounds from my 5'7″ frame and continue to keep it off to this day.
I combined my idea of "healthier for me" eating habits, counting calories with an iPhone food journal, and running to maintain my weight loss.  While the Mercy Health Glass City Marathon was not my first marathon, it has been my favorite over the years, and whether you are looking to run your first ever race or you are a seasoned pro looking to qualify for Boston, I can't think of a better race.  That is why it is on my race calendar every year, no matter what distance I choose to run!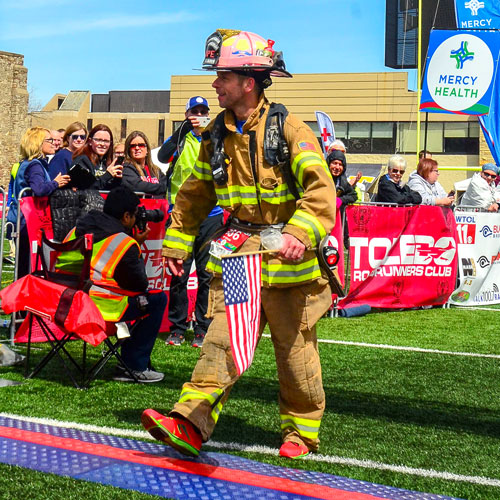 Brian Hackenburg
Hometown: Sandusky, OH
First Marathon: Rev3 140.6 Triathlon at Cedar Point — 2011
I originally started competing in endurance events 50 pounds overweight and at risk for heart disease. Today, I am "in the best shape of my life," and I continue to pursue fitness as a way to promote health and raise funds for the Fireman Rob Foundation to provide Gund bears to hospitalized children. My story is one of passion and pursuing fitness for a cause greater than ourselves.
Back in 2010, I found performing the basic fire ground operations became exhausting and difficult, so I knew he had to make a change. 40%-50% of all In-The-Line-Duty deaths on the fire ground are related to heart attacks and strokes. I remain committed to bringing more awareness to physical fitness in the fire service. While Change is slow, it all comes in good time.
As a career firefighter and avid Endurance athlete, I have completed 24 Full marathons, and I'm a 10x Ironman 140.6 finisher.
I compete in most races dresses in full firefighter gear to raise money to deliver Gund Teddy Bears to hospitalized Children over the holidays. I have two amazing beautiful athletic daughters who love to run: Kayli and Krista.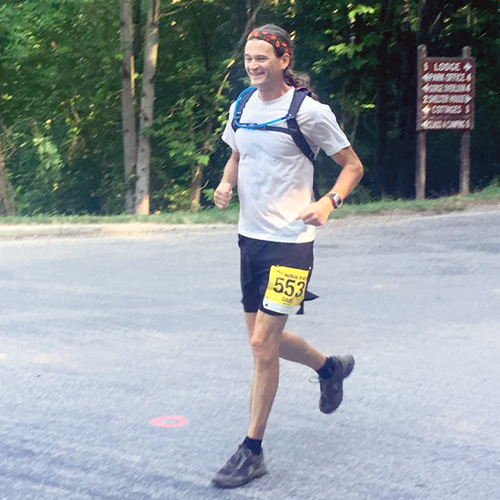 Dave Essinger
Hometown: Bluffton, OH
First Marathon: GCM (2016)
Dave Essinger's novel about ultrarunning, Running Out, is newly out from Main Street Rag Publishing Company in print, and on Audible and iTunes as audiobook. He's no elite runner, but he cares enough about the sport to get it right, and is more than halfway to his 1000-mile buckle at the Mohican 100, where he also rocks the forest for a mile-plus radius as Captain of the famed Fire Tower Aid Station. Even when the wind chill's below zero, sometimes his run is still the best part of his day.
The Mercy Health Glass City Marathon is a special race for him, as the first marathon he and his wife ever ran a little over ten years ago. Dave teaches at the University of Findlay, runs when he can with the Findlay Striders and Team Possum, and otherwise lives and runs in Bluffton, Ohio.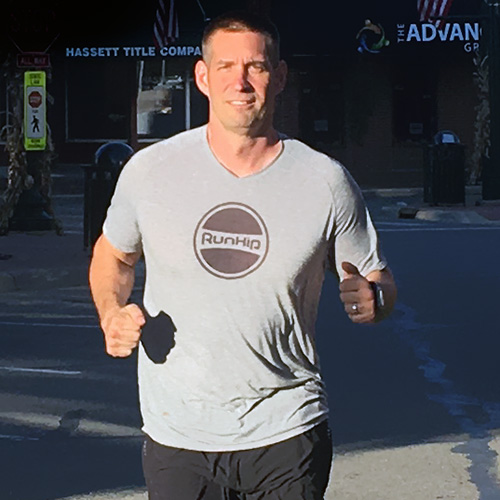 Deric Tedora
Hometown: Monroe, MI
First Marathon: