The start line is located on Stadium Dr., near the Glass Bowl Stadium, in the heart of the University of Toledo campus. Please note that, due to separate start lines, half marathon participants will only be able to run the second leg of the Team Relay. 
A team of five runners will complete the entire marathon distance. Each runner will run one leg of varying distance handing off a runners belt containing your scoring chip to the next team member at each relay exchange zone.
Runner Premiums
Event Specific Short-Sleeve Tech Shirt
Custom Glass City Mug
Commemorative Finisher Medal
Chip Timing
Boxed Lunches & Refreshments
Virtual Perks
Custom Event Shirt
Event Finisher Medal
Custom BIB
Commemorative Glass Mug
Online Results
Online Photo Submission Access
Depending on your location, you can choose to pickup your package prior to the event, or add-on shipping to have it mailed to you.
Relay Leg – Rounded Distances
These distances are approximated based on handoff location (front vs. back of exchange zones).
Leg 1 – 3.5 Miles
Leg 2 – 5.0 Miles
Leg 3 – 6.6 Miles
Leg 4 – 5.4 Miles
Leg 5 – 6.0 Miles
* All team members must meet the age criteria to be entered in the Masters Division.
Official Teams Categories
Corporate: Any combination from one corporation
School: Any combination from one school
Family: Any combination from one family (Family or Relations)
ALL MALE: Open, Masters
ALL FEMALE: Open, Masters
Mixed: Open, Masters
Course Open: 6 Hours *Time Limit Strictly Enforced by Local Police — SAG vehicles will be present should you be unable to meet cutoff times. There are two checkpoints along the course. You must maintain a 13:43 pace to complete within the 6 hour time limit. You'll need to be at mile mile 16 by 11am. You will not be allowed to continue if you do not make the checkpoints in time. SAG vehicles will travel at the course closing pace and will pick up runners along the route and at aid stations, who choose to discontinue the race or fall behind pace (under nonmedical circumstances).
Maximum Field: 250 Teams / 1,250 Runners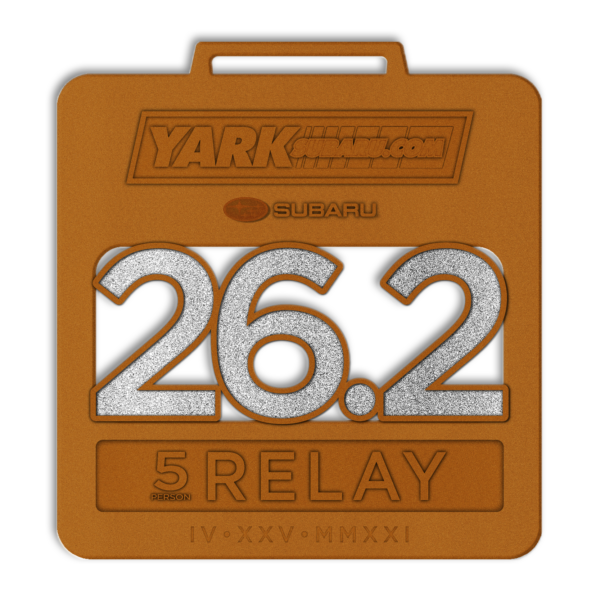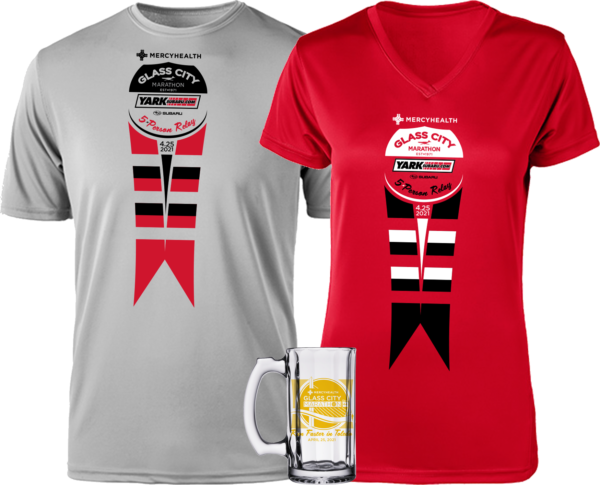 Race shirt guaranteed w/ registration thru March 31st only.
YARK SUBARU 5-PERSON RELAY Marathon • Block Pricing
The low-low rates you've come to expect from the Yark Subaru 5-Perons Relay Marathon remain the same as last year. The earlier you signup to Run Glass City, the better pricing will be available. Tiered/block are in place for this year's running. Tier/block pricing rewards the earliest registrants with the best rates possible, while maintaining our extremely competitive pricing throughout the year. All events have been setup with total registrant caps on each block. Once each block sells out, subsequent tier/block prices activate automatically until the event sells out completely.
YARK SUBARU 5-PERSON RELAY MARATHON
| TIER | PRICE | REGISTRANTS |
| --- | --- | --- |
| Tier 1 | $45 | 1 to 250 |
| Tier 2 | $50 | 251 to 750 |
| Tier 3 | $55 | 751 to 1,000 |
| Tier 4 | $60 | 1,001 to 1,250 |
| TIER | PRICE | REGISTRANTS |
| --- | --- | --- |
| Tier 1 | $25 | Limited by overall field size |
This is a 5-Person Relay. All five spots must be registered to participate.
NOTE: All five spots on your team must be registered prior to packet pickup in order to receive any team BIBs. BIBs are required to run the race. If you're not able to fill all of your team spots or someone drops out last minute, consider shifting the legs to have anyone run multiple consecutive legs. Also consider asking someone already registered for the half or full marathon to register for the relay and run the first or second leg for your team (must be first or second leg in this instance). If Expo day arrives and you're still not able to field a full team, consider splitting the remaining entry amongst the registered members, or transferring to another event if spots remain. Online transfer period ends March 31st.
The full course is not the same as the marathon course. Exchange zones will be marked with flags and cones.
The Glass City 5-Person Marathon Relay course will begin on Stadium Dr. (same as full marathon) on the University of Toledo campus. It will circle campus before heading West into beautiful Ottawa Hills. Heading north into the quiet neighborhoods of Old Orchard and Ottawa Hills, the course leads you to the area's finest Metroparks system utilizing the University Parks bike Trail. A tour through Sylvania leads you back to Wildwood Metropark and down the bike trail to a short tour of the UT campus concluding with the finish inside the Glass Bowl.
All Participants Will Be Required to Provide Their Own Transportation to and from Exchange Zones.
For safety, we will not be offering shuttle service this year.
Numbers and Chip Timing
All team members are required to wear a race number visible on their front. Your chip timing device will be attached to a runner belt. Only ONE runner belt will be provided to each team. Each runner belt must be turned in at the finish line.
Exchange Points
Relay Exchange Zones will be marked with cones and flags. Hand-offs must occur within the marked zones. Exchange points #1 and #2 can get very congested. Please be courteous to your fellow runners and make every attempt to keep the exchange zones and marathon course clear.