Official Pacers Courtesy of Dave's Running Shop
Dave's Running Shop will be providing pace teams led by experienced pacers. A wide variety of times, including many of the Boston qualifying standard times will be available. We hope you will find this race day support useful as you strive to achieve your marathon goals.Interested in Becoming One of Our Pacers? Email your running resume for review. — Email Running Resume Here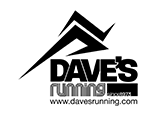 You've been training for months for this marathon and on race day you'll have an experienced leader to get you through the race. The Pace Team is designed for an athlete just like you. Whether this is your first marathon or you've done several, the benefits of running with a Pace Team will help you have a more successful marathon experience.
Right from the starting line through the race and up to the finish you'll have someone who's focus is on you, making sure that you're not going out too fast or running sporadically. If the pace feels too slow in the beginning of the race that is normal, be patient. Just stay with the group and ask the pace leader about an appropriate strategy for the second half. If the pace is too fast, slow down. If you become ill or injured stop off at the medical station.
The marathon is a challenging event and anyone can have a bad day. If you manage your day smartly then you'll finish to run another marathon. Pace teams will run even splits throughout and will not slow down at water stops. Each pace team member will coach you along the way with words of encouragement and will let you know the current pace throughout the race.
Marathon Pacers & Times
3:00 • Evan Hicks & Kyle Kiel
3:15 • Rob Vogt & Jonathan Bolha
3:20 • Andrew Behnke & Stephen Liegghio
3:30 • Stephanie Kapanowski & Tim Schmitt
3:40 • Thomas Gilbert
3:45 • Cherie McCleese & Jason Lehrer
3:50 • Andy Boris & Jeff Shore
3:55 • Peter Qumsiyeh & Ann Howard
4:00 • Anna Zblewski
4:05 • Sean Brennan & Lewis Hayden
4:10 • Casey Hogan & Austin Hagemann
4:15 • Kelly Bandfield & Mitch Brouwer
4:20 • Charles Fritz & Bob Davidge
4:25 • Mike Lavallee & Bart Marowelli
4:35 • Clayton Snyder & Sarah Pirolli
4:45 • Wendy Campbell & Scott Struck
4:55 • Amber Smith & Teresa Fulcomer
5:15 • Charles Estep & Joe Mitchell
Half Marathon Pacers & Times
1:25 • Ricky Holbdy
1:35 • Allyson Putt
1:40 • Tom McNear
1:45 • Nick Seger
1:50 • Walter Kotelniski
1:55 • Greg Long
2:00 • Amy Anikewich
2:10 • Nicole Hayden
2:20 • Arya Jayatilaka
2:30 • Jody Stanley
2:35 • Kim Wason