Mandatory Corral Seeding & Wave Start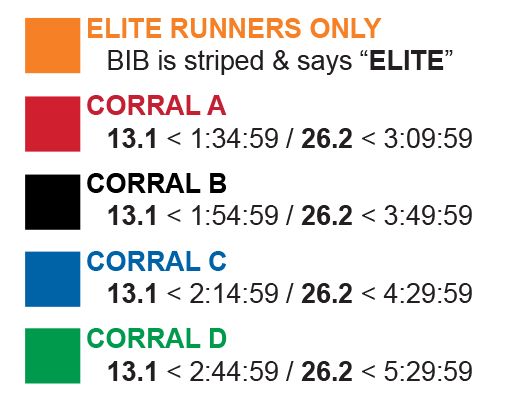 The Mercy Health Glass City Marathon features a corral seeding and wave start process to facilitate a more efficient, safe and convenient race-day experience for all participants. This includes three significant details that you should be aware of:
All participants will be assigned to a specific start corral (Elite, A, B, C, D).
Your BIB is color-coded to identify your corral assignment and is assigned by your estimated finish time.
Marshals will be monitoring the corrals; no corral jumping will be allowed.
The Elite corral and corral A start at 7:02am.
There will be a short (2-3 minute) space between the start of each subsequent corral. Each corral will get their own countdown and horn.
Start Corral Descriptions