GCM TOLEDO

Prize Money • Awards • Medals
Results will be posted within a reasonable time to determine age group awards, so you can celebrate soon after the race. Awards will be mailed to all recipients in the weeks following the race. Participants in each event will receive a medal and commemorative glass mug after crossing the finish line in the University of Toledo Glass Bowl Stadium. There will be a ceremony on the PNC Stage in lot #10 to recognize each of the overall winners of each event. — Participants are not eligible for multiple awards.
*Athletes must attend post-race award ceremony to be eligible for cash prizes (which will be mailed).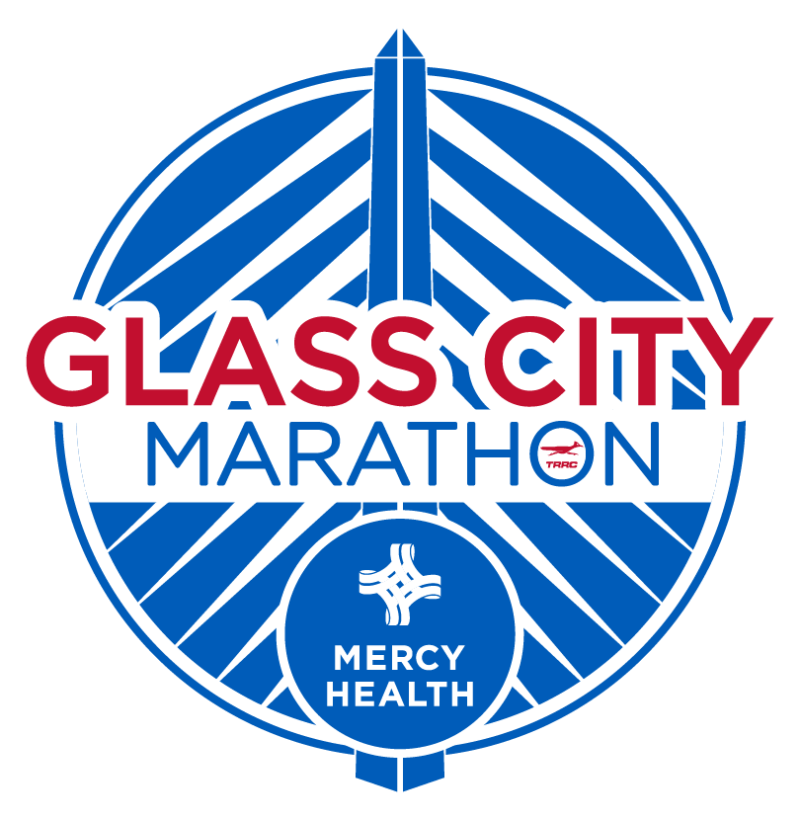 ELITE RUNNERS
The Mercy Health Glass City Marathon and Owens Corning Half Marathon invite athletes to inquire about participation in our event. The race will distribute complimentary entries based on demonstrated past performance. Elite BIB placement is limited and these participants will receive placement in the front of the pack at the beginning of the race.
Each request must provide the web address for the race results that document a comparable performance recorded within the last two years. Please note that the Mercy Health Glass City Marathon does not provide appearance fees, hotel accommodations or travel reimbursement.
Category

Marathon

Half

5k

Elite Male
2:27
1:10
–
Elite Male Masters
2:40
1:15
–
Elite Female
3:00
1:25
–
Elite Female Masters
3:12
1:30
–
COURSE RECORDS
MARATHON OVERALL
Aaron Cooper 2:20:58 (2018)
Sydney Devore 2:41:30.43 (2022)
MARATHON MASTERS
Ryan Rau 2:34:32 (2021)
Laura Wetz 2:52:33 (2018)
HALF MARATHON OVERALL
John Gathaiya 01:03:47 (2017)
Susan Jerotich 1:13:25 (2017)
HALF MARATHON MASTERS
Richard Kessio 1:06:27 (2016)
Leah Foley 1:21:56.88 (2022)
5K OVERALL
Fernando Cervantes Caudilo 14:35.68 (2022)
Megan Drews 17:23.56 (2021)
5K MASTERS
Julius Kiptoo 16:16 (2019)
Suzanne Larsen 19:43.84 (2022)
Zero-Tolerance Policy
The Toledo RoadRunners Club has a zero-tolerance policy regarding the use of performance enhancing drugs (PEDS). Any athlete who has been determined to have violated anti-doping rules or policies and is currently serving suspension, whether enforced by the International Association of Athletics Federation (IAAF), the World Anti-Doping Agency (WADA), U.S. Anti-Doping Agency (USADA), or any other national sports federation is ineligible to compete for any prizes associated with events sponsored by the Toledo RoadRunners Club. The Toledo RoadRunners Club reserves the right to conduct pre and post-competition testing for any and all performance enhancing drugs (PEDS) listed on the current WADA Prohibited List. Any athlete who refuses to submit to anti-doping controls, if selected for testing, shall be disqualified and subject to a lifetime ban from any Toledo RoadRunners event.