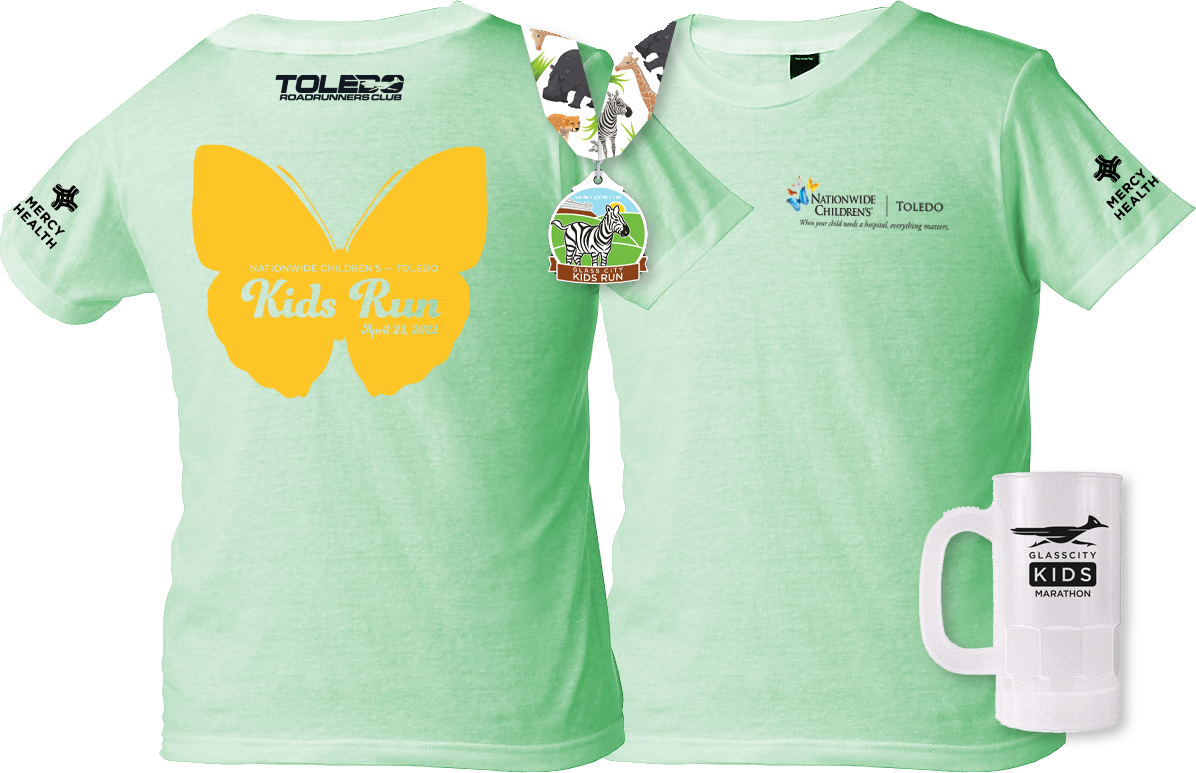 Our annual run for kids age 2 to 12 is back and better than ever thanks to the new title sponsor, Nationwide Children's Hospital — Toledo and fun, family-friendly updates to the courses. Courses now start on Stadium Dr., run through campus and have a big finish on the field we're sure the kids will love.
Comfy T-Shirt
Finisher Medal
Finisher Mug
Choice of Race Distance
Access to the Glass Bowl
Refreshments
Free Start Line Photographs
OUTDOOR KIDS ACTIVITIES
Nationwide Children's Hospital — Toledo
Toledo Museum of Art
Face Painting
Copper Moon Studio
Hero's
and more
KIDS PACKET PICKUP
Friday, April 21, 2023 — 4:00pm to 8:00pm
Savage Arena | Expo
Saturday, April 22, 2023 — 7:00am to 10:30am
Parking Lot 10 (outside tent)
SATURDAY KIDS ACTIVITIES
We have a bunch of kid's activities planned for Saturday morning. Immediately following the morning 5K, join us in Parking Lot 10 of UT's campus.
START TIMES & DISTANCES
The first race of the day will be the 1 mile run beginning at 11:00am. Immediately following the start of the 1 mile run we will line up the 1/2 mile run. This run will start once the last 1 mile run participant crosses the Library footbridge.
The 1/4 mile toddler run will begin at about 11:15am, or once everyone has cleared the course from the first two runs.
All kid's races finish in the Glass Bowl stadium. Parents will enter the Northeast gate to the field and stay on the outside of the barricades to take photos, video and receive kids after they finish — no-one is allowed inside the finish chute except staff and runners (parents running course with kids allowed to finish with kids). Kids will exit the finish chute onto the field near the Northeast corner of the stadium where you entered.