Limited to 1,500
REGISTER


Limited to 4,250
REGISTER


Limited to 1,750 (Teams 350)
REGISTER


Limited to 2,500
REGISTER
Owens Corning Half Marathon
13.1 Miles
*10th Anniversary Run
Take advantage of the special anniversary early-bird rates while they last. The first 2,500 registered will be upgraded to receive a custom commemorative item.
The Owens Corning Half Marathon starts at the same time and location as the Mercy Health Glass City Marathon. All runners will stay together for the first several miles before full and half course splits. Everyone finishes on the 50 yard line of the Glass Bowl Stadium.
If you want to experience a large race atmosphere, with small town hospitality, and aren't able to complete a full marathon, you can take part in the 10th running of Northwest Ohio's premier spring half marathon to see what it's all about.
YARK Subaru 5-Person Relay
Team Marathon Event
*NEW — University of Toledo Shuttles to/from Relay Points
Run the full Marathon as a team of five. Each team member will run one leg of the full 26.2 mile course.
RELAY LEGS
1 = 6.6mi / 2 = 6.3mi / 3 = 3.1mi / 4 = 4.9mi / 5 = 5.3mi
Every member of the relay team is invited to stage at Rally Row to run the final entry into the Glass Bowl and finish together, where all five of you will each receive a custom finisher medal.
Glass City 5k
A Starting Point for All Skill Levels
*NEW — Saturday Morning 5k Shake Out Run & Race
Choose to run the 5k as part of your pre-race shake out preparation. The Glass City 5k is offered as an add-on to your main event, for a very low rate during registration.
The Glass City 5k remains a competitive run/walk event for our short distance participants. You will experience the same great atmosphere and Glass Bowl finish line as Sunday's feature events.
Come out Sunday ready to race, celebrate or just to cheer the runners along the course near you. The 5k will be immediately followed by the Findley Davies Kids Runs.
Make Your First Time in Toledo — 26.2
GCM Runners Get More
At the Mercy Health Glass City Marathon, we like to take care of our runners and show them special recognition. In 2016 we developed a package to celebrate all of our previous winners, and another to thank everyone taking part in our 40th anniversary run.
Last year we developed a perks package especially for all first time marathoners; and it continues. If this will be your first full marathon (26.2 miles), say so during registration and we'll have some special benefits waiting for you on race weekend.
Your Time to Run Toledo
The Toledo Roadrunners Club is proud to present the Mercy Health Glass City Marathon's 42nd running
on Sunday, April 22, 2018 at the University of Toledo. Be part of Northwest Ohio's largest spring time running event. Finish in the Glass Bowl Stadium and join nearly 10,000 others in GCM's post-race celebration.
First Time Marathoners
Personalized Service at Expo
Special Recognition Package
Unique Race Day BIB
VIP Status at Post-race Party
More…
KIDS 1/2 MILE, 1/4 MILE & 1 MILE RUN — APRIL 21, 2018
100% of the proceeds from registration will be donated to Mercy Children's Hospital. — Special events are planned for the kids, including their own Expo, meet-and-greet with UT Football players, Agility Angels Dog Show, group exercises, teddy bear, shirt, finisher medal & refreshments.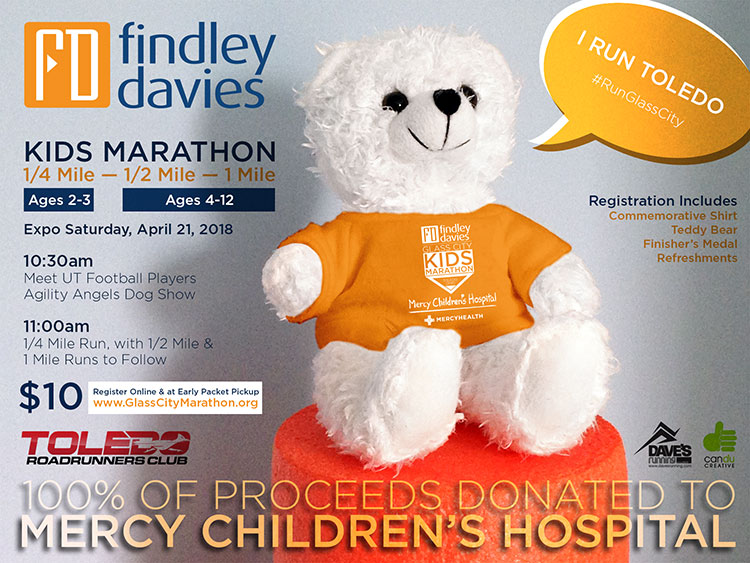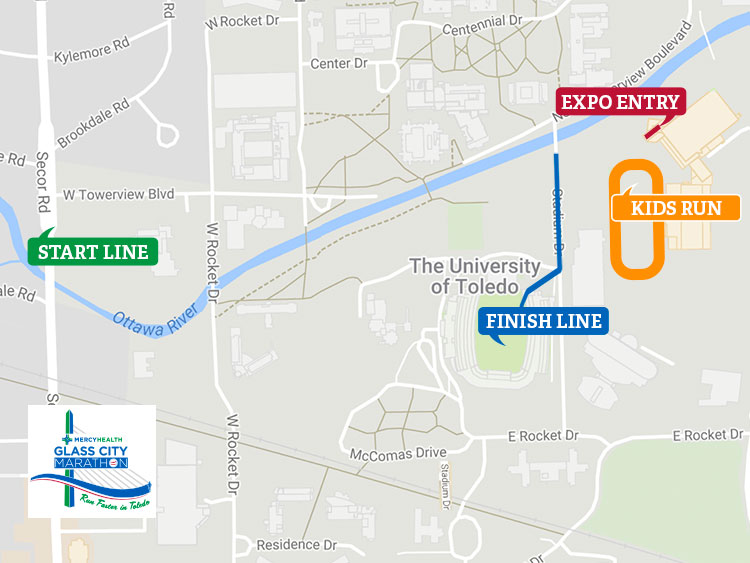 GET READY FOR THE 42ND MERCY HEALTH GLASS CITY MARATHON
OFFICIAL "GCM IN-TRAINING" POWERED BY DAVE'S RUNNING