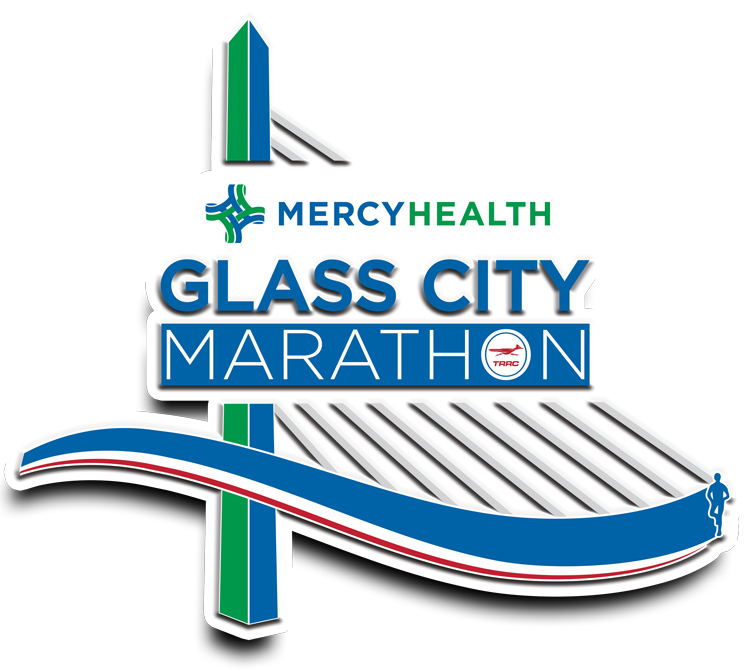 MAKE GCM YOUR FIRST 26.2
April 23, 2017
Make Your First Time in Toledo — 26.2
GCM Runners Get More
At the Mercy Health Glass City Marathon, we like to take care of our runners and show them special recognition. In 2016 we developed a package to celebrate all of our previous winners, and another to thank everyone taking part in our 40th anniversary run.
This year we are developing a perks package especially for all first time marathoners. If this will be your first full marathon (26.2 miles), say so during registration and we'll have some special benefits waiting for you on race weekend.
You'll Run Faster in Toledo
The Toledo Roadrunners Club is proud to present the Mercy Health Glass City Marathon's 41st running
on Sunday, April 23, 2017 at the University of Toledo.
Be part of Northwest Ohio's largest springtime running event. Finish in the Glass Bowl and become one of the 8,250 to say "We Run Toledo" together at GCM.
First Time Marathoners
Personal Concierge Service at Expo
Elite Athlete Escort at Expo
Special Recognition Package
VIP Status at Post-race Party
More…
OFFICIAL "GCM IN-TRAINING" POWERED BY DAVE'S RUNNING
Train In Style With Official GCM Apparel
2017 Mercy Health Glass City Marathon
Get your commemorative 41st Mercy Health Glass City Marathon In Training shirt now; ahead of your winter training runs. This long sleeve Nike Legend, Dri-Fit shirt is available in men's and women's cut, and multiple sizes. Only a limited quantity will be printed. — Get Yours Before They're Gone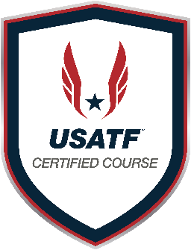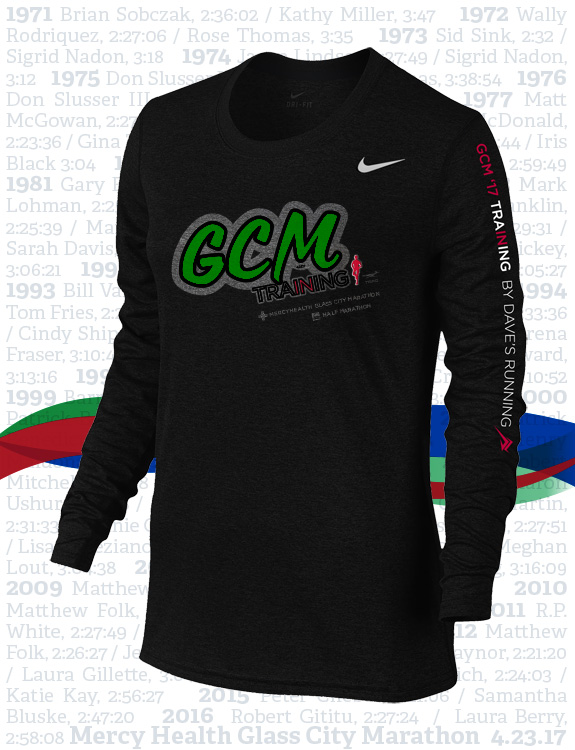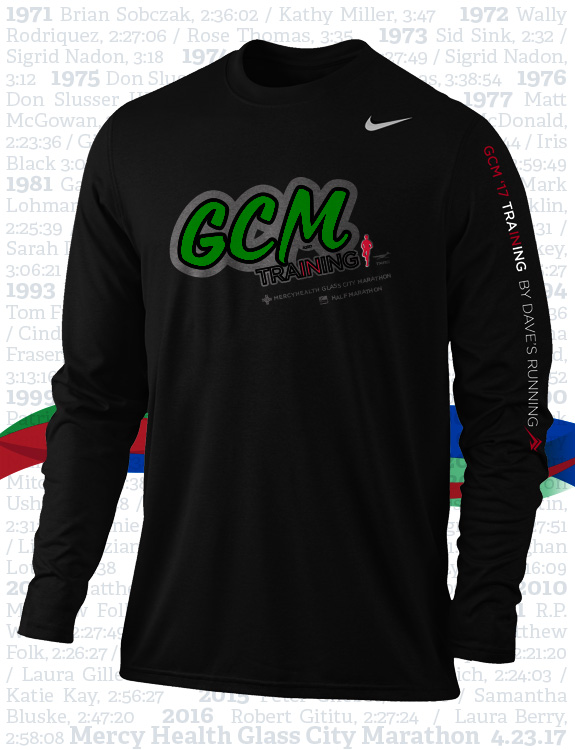 "GCM" TRAINING TIPS PROVIDED BY MERCY HEALTH
Owens Corning Half Marathon
13.1 Miles
The Owens Corning Half Marathon starts at the same time and location as the Mercy Health Glass City Marathon. All runners will stay together thru mile 8, where the full and half course split.
If you want to experience a large race atmosphere, with small town hospitality, and aren't able to complete a full marathon, you can take part in Northwest Ohio's premier spring half marathon to see what it's all about.
YARK Subaru 5-Person Relay
Team Marathon Event
Run the Glass City Marathon course as a team of five. Each person will run one leg of the full 26.2 mile course.
Leg: 1 = 6.6mi / 2 = 6.3mi / 3 = 3.1mi / 4 = 4.9mi / 5 = 5.3mi
The relay course will begin on Bancroft Street & Drummond in front of the University of Toledo Bell Tower, at the same time as the full and half marathon. Every member of the relay team will receive a custom finisher's medal.
Medical Mutual Glass City 5k
A Starting Point for All Skill Levels
Whether you run or walk the Medical Mutual Glass City 5k, everyone will experience the same great atmosphere and perks…and get to say, "I Run Toledo" after crossing the same finish line.
The 5k course will begin on Bancroft Street & Drummond in front of the University of Toledo Bell Tower. Heading East into beautiful Old Orchard before circling back around campus, finishing inside the UT Glass Bowl.

Kids Marathon — Saturday 4/22
100% of the proceeds from registration will be donated to Mercy Children's Hospital. — We have special events planned just for the kids. Including a meet-and-greet with the UT Football players; Agility Angels Dog Show; group exercises; a teddy bear; finisher's medal and refreshments.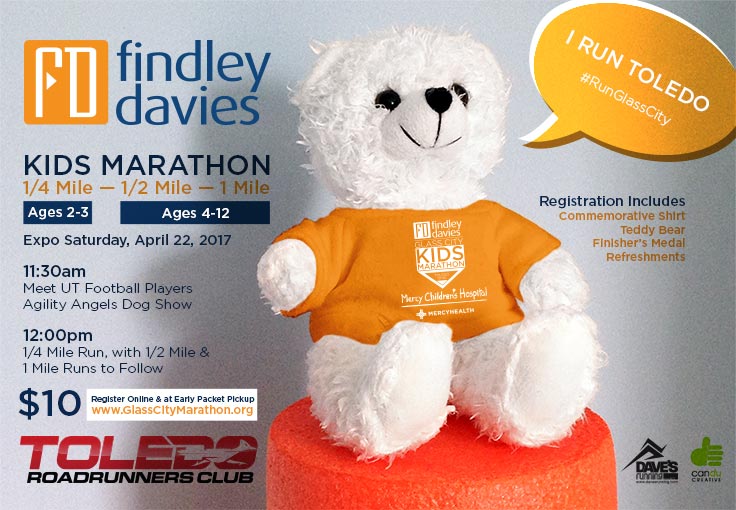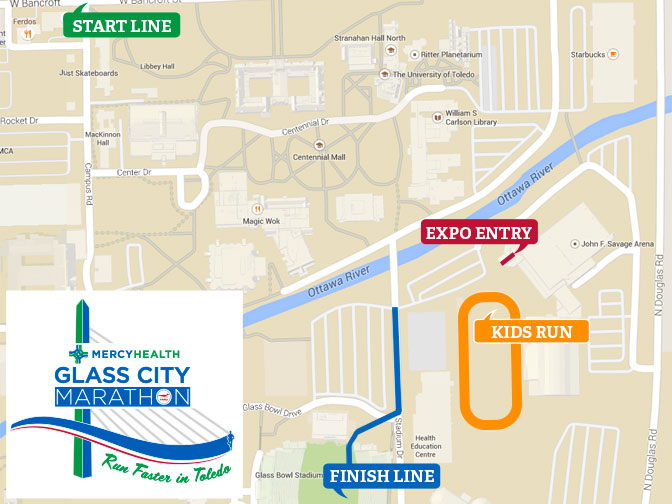 "I ran the Glass City Marathon last April and it was my first. You'll love the course. It's scenic and mostly flat. I plan on registering again soon. You'll have fun. — H.B."
"I cannot stop bragging about your marathon! I live in MI. This was my 6th marathon. Aside from the 16mph winds on "the back 13″ — seriously, could you not tame that beast, lol? — the course was great, volunteers were grand, and the event was very well organized. As for the end-of-the race festivities, they were superior! Talk about getting such grand bang out of a buck. Oy! Congratulations! Thank you for not putting endless supplies in our goody bags (gels, etc.) and putting the $ toward the festivities. Many clubs could learn from you. — L.L."
"I just wanted to thank you for taking such great care of us this weekend. This was my first time running Glass City and I will certainly be back. Thank you so much for taking care of my entry and hotel. That was a huge help. The hotel was very convenient and the elite tent was a great place to stretch and keep warm before the race. I even had a wonderful volunteer take my jacket for me at the starting line; so nice. The food was great, loved the medals, and very cool glass mugs. Although I didn't win the Master's purse prize this time, I still went away with an awesome new running bag for placing in my age group and a new PR in the full marathon by 15 seconds. What a great race! I can't wait for next year. Thanks again for all of your support!. — J.S."
"I liked the Glass City Marathon better than the Chicago Marathon. The course was faster due to the lack of runner congestion. I never felt unsafe while on the course. The volunteers and local police did an excellent job. My time was 24 minutes quicker than my previous best marathon. — D.H."
"My husband and I have done serveral races that are a part of the GCM and each one is incredibly organized and well done. This year I did my first half marathon at the GCM and it could not have been a better experience. The course was perfect and the finish at the Glass Bowl was really neat. The volunteers were great and there were so many of them. Mile markers were well done and it was nice to have times and splits called out during the race. — L.H."
"You will absolutely have the opportunity to BQ! Super flat, fast course. I had so much left for the last six miles it was amazing…I flew through the finish. They have split-time announcers at various points along the course which was awesome, too. In addition, the marathon itself was super organized. I've run five marathons now, and speak very highly of the Glass City Marathon. — M.P."
"The results book is such a great keepsake from the race. Not only do we like to keep them to see how our times have progressed, but our kids think it's cool to see mom and dad's name in a book. — L.H."
"I have run every Glass City half with the exception of last year (I ran the tough mudder the day before). I am so very impressed by your event. I have run six marathons (Chicago x2, Detroit x3, Cincinnati, and Columbus) and many other great races. The way you run your event rivals larger markets. I am so proud to be a participant in the Glass City Half!

Here are some of the things I enjoy:

The Expo (though crammed) is well populated with fun vendors and great stuff.
The kids run is first class and accessible for families with small kids (my kids wear the "medal" for days!).
The shirt and medal are great quality.
The starting line is well managed and good energy.
The race course is awesome…love the changes. The hills at the end were a good challenge. Love running into the bell tower at the end.
The finish line in the Glass Bowl is just awesome. Good photos at the end, great energy.
The runner food at the finish….WOW! Ginos was awesome touch.
I loved the App.

Thank you! — B.S."
"I am very excited about participating in the Glass City Marathon. This is actually the third marathon I have signed up for and with training going great so far, the first one I will finish. In 2013 I had signed up to run the Nationwide Marathon, after doing the half several times, but while training I was also playing sand volleyball and during a game turned my ankle just right (or wrong) and ended up with a fracture and several torn tendons. Therefore, running the marathon was out of the question. Then in 2014 I signed up to run the Cleveland Marathon and while training ran into (literally ran into) another injury. I obtained a stress fracture in the femoral neck of my left leg and a stress injury on the right side, which took me out of running for nearly 6 months. Once I was back to running I was determined to train and finish a marathon, while keeping my body healthy. So far I have gone as far as 18 miles and have no serious aches or pains. My number 1 goal is to finish the race whether I'm running, walking or crawling. I also have a great support group, who will be running with me doing the relay marathon at Glass City, so I will always have encouragement to keep me going. I am very excited and can't wait to be there on April 26. Thanks for listening, see you soon."