Limited to 1,500
REGISTER


Limited to 1,750 (Teams 350)
REGISTER


Limited to 3,250
REGISTER


Limited to 1,750
REGISTER
RUN GLASS CITY 42 ON APRIL 22, 2018
RACE WEEKEND AT MERCY HEALTH GLASS CITY MARATHON
The new turf has been laid and a full season of University of Toledo Rockets football played to break it in. Now it's your turn to be the center of attention on the 50 yard line...

We are glad to again be a water stop on the route for this year's Mercy Health Glass City Marathon and look forward to seeing the runners as they pass through on Sunday morning. Epworth United Methodist Church will be holding a...

All Mercy Health Glass City Marathon runners, friends and family are invited to a pre-marathon Catholic Mass at 4:30pm Saturday, April 22, 2017 at Corpus Christi University Parish. A special blessing for runners will take place during the Mass...
Owens Corning Half Marathon
13.1 Miles
The Owens Corning Half Marathon starts at the same time and location as the Mercy Health Glass City Marathon. All runners will stay together thru mile 8, where the full and half course split.
If you want to experience a large race atmosphere, with small town hospitality, and aren't able to complete a full marathon, you can take part in Northwest Ohio's premier spring half marathon to see what it's all about.
REGISTER
YARK Subaru 5-Person Relay
Team Marathon Event
Run the Glass City Marathon course as a team of five. Each person will run one leg of the full 26.2 mile course.
Leg: 1 = 6.6mi / 2 = 6.3mi / 3 = 3.1mi / 4 = 4.9mi / 5 = 5.3mi
The relay course will begin on Bancroft Street & Drummond in front of the University of Toledo Bell Tower, at the same time as the full and half marathon. Every member of the relay team will receive a custom finisher's medal.
REGISTER
Glass City 5k
A Starting Point for All Skill Levels
Whether you run or walk the Glass City 5k, everyone will experience the same great atmosphere and perks…and get to say, "I Run Toledo" after crossing the same finish line.
The 5k course will begin on Bancroft Street & Drummond in front of the University of Toledo Bell Tower. Heading East into beautiful Old Orchard before circling back around campus, finishing inside the UT Glass Bowl.
REGISTER

Kids Marathon — Saturday 4/21
100% of the proceeds from registration will be donated to Mercy Children's Hospital. — We have special events planned just for the kids. Including a meet-and-greet with the UT Football players; Agility Angels Dog Show; group exercises; a teddy bear; finisher's medal and refreshments.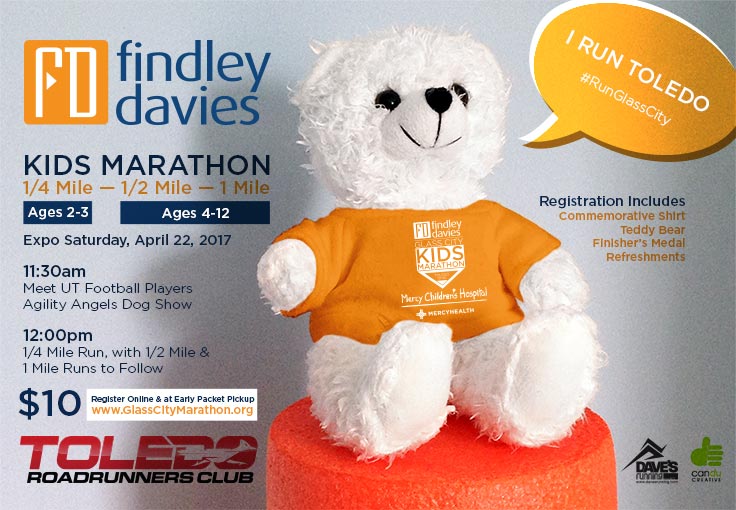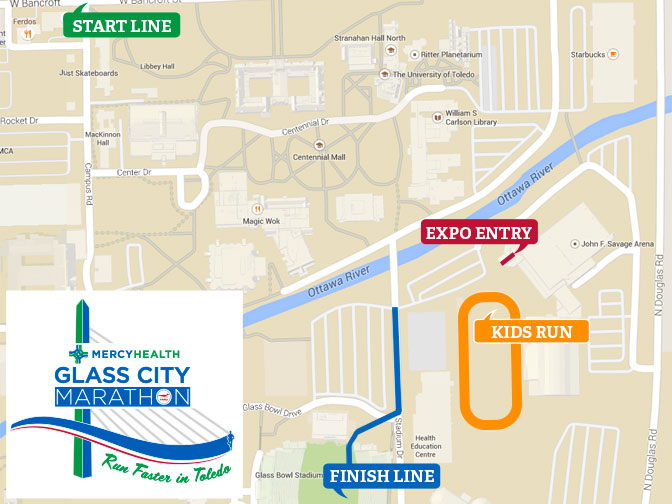 Make Your First Time in Toledo — 26.2
GCM Runners Get More
At the Mercy Health Glass City Marathon, we like to take care of our runners and show them special recognition. In 2016 we developed a package to celebrate all of our previous winners, and another to thank everyone taking part in our 40th anniversary run.
This year we are developing a perks package especially for all first time marathoners. If this will be your first full marathon (26.2 miles), say so during registration and we'll have some special benefits waiting for you on race weekend.
You'll Run Faster in Toledo
The Toledo Roadrunners Club is proud to present the Mercy Health Glass City Marathon's 42nd running
on Sunday, April 22, 2018 at the University of Toledo.Be part of Northwest Ohio's largest springtime running event. Finish in the Glass Bowl and become one of the 8,250 to say "We Run Toledo" together at GCM.
First Time Marathoners
Personal Concierge Service at Expo
Elite Athlete Escort at Expo
Special Recognition Package
VIP Status at Post-race Party
More…
OFFICIAL "GCM IN-TRAINING" POWERED BY DAVE'S RUNNING